So, let's chat about the Olympics. There are a lot of topics to cover and of course, I have a lot to say, so let's just dive in, shall we?
recommended you read 1. Gabby Douglas
This chick is amazing. She won the Olympic all-around individual competition in 2012 which means she was the best gymnast overall on all of the events. She was lauded, decorated and celebrated. Then she came home to the country she had represented as the best in the world to find out people didn't like her hair. Can you blame her when she appeared slightly reserved upon entering the 2016 games? Let's first take a moment to recognize that she qualified again. Five women were chosen to represent America's abilities on the mat, vault, beam and uneven bars and for the second time in a row, she was among them. She then helped our team win gold in the overall competition. She has trained to be the best she can be and has supported America's new favorite gal, Simone Biles, with grace and poise. And people are still talking about her hair. 
I was reminded of the classic cheesy-but-entertaining, movie Stick It which chronicles some of gymnastics' major flaws, one of which is how the young ladies are judged on every aspect of their performance down to where their bra strap is. I may be wrong, but I'm pretty sure Michael Phelps isn't judged on the placement of his swim cap. He just has to be the fastest (which isn't a small thing, but let's not miss the point) but that's it. In the movie, Jeff Bridges tells off a judge for deducting points for a bra strap from what appeared to be a flawless vault. Y'all, Gabby is flipping through the air, why does anyone care about her hair? Meanwhile, Aly Raisman (who I love) pulls back every piece of her long main into the tightest and seemingly most painful bun strapped to the top of her head, but no one cares. I call double-standard and a lack of seeing the big picture. Gabby deserves applause, love and support for being better at almost everything and for leading the next generation of gymnasts.
And another thing, some folks are mad she didn't put her hand on her heart during our nation's anthem. I ask you, have you ever won a gold medal in an Olympic competition? Do you know how many zillions of thoughts must have been going through her mind? After Kerri Strug's one-footed landing that won the Magnificent Seven a team gold medal in 1996, do you know what she was thinking on that podium? She was worrying that she was the only one not wearing pants. Pants, people! Gabby is a woman and if she's like me and other women I know, she probably has too many thoughts running through her mind. So, let's give our athletes a some slack for being a little distracted and mentally overwhelmed during one of the most important moments of their lives.
Check This Out 2. Not cool, bro
I wrote this Thursday afternoon before the truth became known, so I'm blaming the delay of this post and the embarrassment of our country on Ryan Lochte. I initially criticized Brasil for putting our swimmers through the gamut implying that if you are robbed, you definitely shouldn't tell the police or they will call you liars and not let you leave the country. Yes, I wanted to think the best of my countrymen. We now find out that Ryan lied. He was a very drunk, ugly American. I kind of wonder if he was so drunk, he doesn't even remember that night. But it doesn't matter if he remembers or not. He lied. A lot. Not cool, bro. Not cool at all.
3. Aly Raisman really likes carbs
One thing I really love about Aly is what we have in common: pizza. This girl loves her some carbs. Of course, she's exercising 8-10 hours a day, six days a week while I'm planking every now and then and treading water for a few minutes in mom's pool once a week. She needs the carbs to have the energy needed to power through the Olympics. I eat carbs to find the right balance between hunger and throwing up. In an interview with People.com, she said "I eat a lot of carbs. For some reason, Americans think eating carbs is like, the enemy. But, as an athlete, we're supposed to, carbs is the key to having energy and the key to being able to recover after a workout as well." When the Today show brought Zac Efron out to meet our Final Five, they apparently made plans to go eat pizza together. Aly made sure to note that this was a definite plan. "He said we could eat pizza with him too. So we're gonna eat pizza with him. And french fries." I love this about her, I think she's more pumped about the food than the company! Can you blame her? I feel that way and I'm not even dieting!
4. Let's Hear it for the Moms
Yes, the "Thank you mom, P&G" ads have me all teary, but I'm talking about the moms who are competing. I love Michael Phelps as much as the next red-blooded American woman, but…well, I'm a little more impressed with Dana Vollmer. This chick won three gold medals at the 2012 games in London and figured it was time to move on to her next ambition: motherhood. During her pregnancy, she was put on bed rest at 33 weeks. I've never been on been rest because the Good Lord knows what I can't handle. If you've ever been pregnant, you know it's not pretty. The back fat. The arm fat. The butt fat. Where does it all come from? It's not as if the placenta is in my thighs. Anyway, after giving birth, Dana somehow got all motivated to start training again. Maybe Jr. is a great sleeper? I was a zombie after both my children were born and I ran the slowest I've ever run. Not Dana. Dana got her body into Olympic shape and qualified for the 2016 Olympics. So far, she's won a gold medal, two silver medals and one bronze medal in this Olympics. She is 28 years old. I am in awe.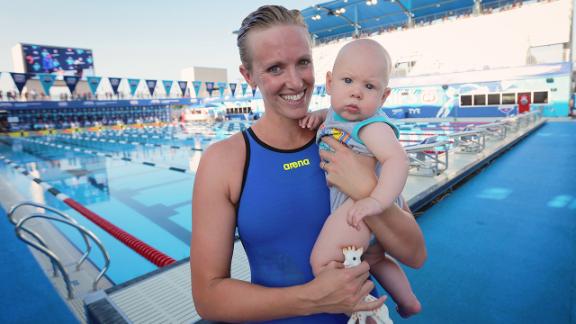 But Dana is just one of many women competing in the Olympics after their bodies have gone through the fires of doom created beautiful babies. Have y'all been watching the volleyball tournament? Kerri Walsh-Jennings is uh-mazing. Kerri says she was born to have babies and play volleyball. She has three children. Three. Not one little boy who can easily be handed off to daddy, three children who require scheduling, engagement, interaction, love, education…all the things. Now, let's talk about how Kerri is 38 years old. Part of me feels jubilant in finally finding an Olympian who is older than me, but I look at her body and realize she might as well be 18 years old because my body has never looked like that. Oh, and she always wins. This time around, she's going home with a bronze medal and I completely agree with her assessment that there is "no shame" in third place. Way to go, girl.
One more mom and then I'm done. Oksana Chusovitina is 41 years old with a 16 year-old-son. This is her seventh Olympics. She attempted "the vault of death" as a last-ditch effort to get on the podium in the vault competition. Upon landing, she hit her shins, rolled once and popped up like a pop-tart with her hands in the air and a smile on her face. I feel the facts speak for themselves.
She and all of the women who compete no matter their age or place in life are a wonderful example of what you can achieve if you set your mind to something and train for it like crazy. All of these women compete from a place of joy and love of the sport. This is what Simone Biles' coach commented on in her method of training Simone. I hope this mindset continues to bring great things from America and from the world.
5. Thank you
As I watch Team USA represent my country, I feel so grateful for the mothers, fathers, siblings, coaches and athletes who worked and worked in the off season so we can shine so well in these few weeks. This has been a blessing during a time of deep confusion and frustration as we head to the polls. A country is made of its people and not one person (that includes Ryan). We are who we want to be, who we decide to be. So thank you to Team USA who decided to be excellent, positive and joyful.